Haley Brackets
Cable Tray Support Manufacturers + Designers
As a UK manufacturer, we specialize in supplying products to support cable tray + basket installations. As an company, we focus on making products the electrician would want to use. In gereral, easy to use, comprehensive range, convenient packaging (mostly in multiples of 10 using recyclable materials), quick deliveries with low order values.
We manufacture for stock, supply through distributors and electrical wholesalers, using next day delivery.
Our contact details are at the bottom of this page.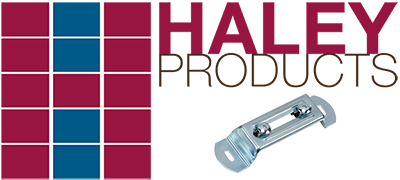 LBC Ceiling Brackets
Size
(Up To)
Material
Thickness
No. of
Slots
Inner
Quantity
Outer
Quantity
Product
Code
4"(100mm)
2.0mm
2
10
60
LBC100
6"(150mm)
2.0mm
3
10
40
LBC150
9"(225mm)
2.0mm
4
10
40
LBC150
12"(300mm)
2.0mm
5
10
30
LBC300
18"(450mm)
2.0mm
7
10
N/A
LBC450
N.B. For the 450mm bracket, end support is needed.
LCB End Support
Size
Description
Inner
Qty
Outer
Qty
Product
Code
129mm
Fixing to strut
10
100
LBCES02Z
137mm
Fixing to ceiling
10
100
LBCES13Z
Extra end support,if needed.N.B. For the 450mm bracket, end support is needed.
Fixing Kit
For
Size
Information
Inner
Quantity
Outer
Quantity
Product
Code
Fits all
Fixes tray to bracket
10kits
100kits
FK100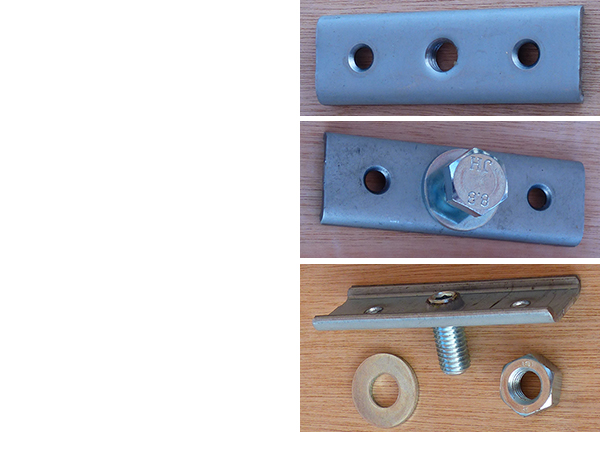 backplates

| Description | Finish | Pk. Qty. | Code |
| --- | --- | --- | --- |
| Plain backplate | pre-galv | 50 | HBP10FM |
| Backplate withM10x12 X-set and washer | pre-galv | 25 | HBP10XB |
| Backplate withM10 stud and washer | pre-galv | 25 | HBP10ST |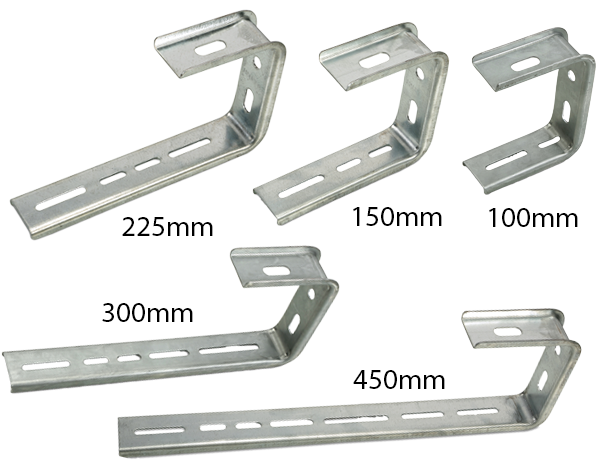 Bracket sizes
For lightweight support of cable tray and basket parallel to ceilings.Can be used for some limited suspension applications (up to 150mm).Designed for side loading cable into tray saving time and effort.
When using the 450mm bracket an extra support should be used at the free end of the bracket for extra support.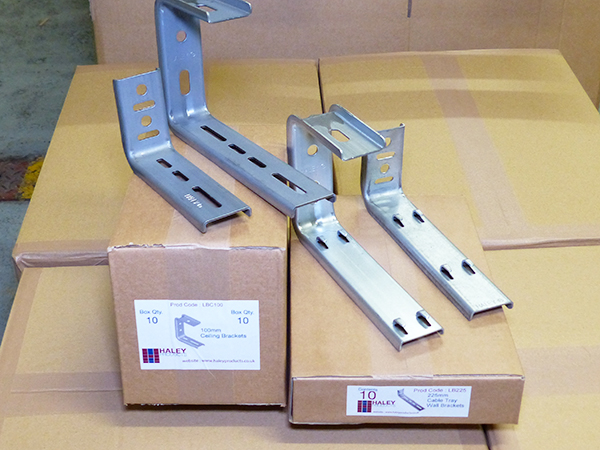 LBC and LC packaging
Haley LBC brackets are packed in multiples of 10. This allows them to be stored, transported, sold and used easily.
All packaging material is either recyclable or biodegradable.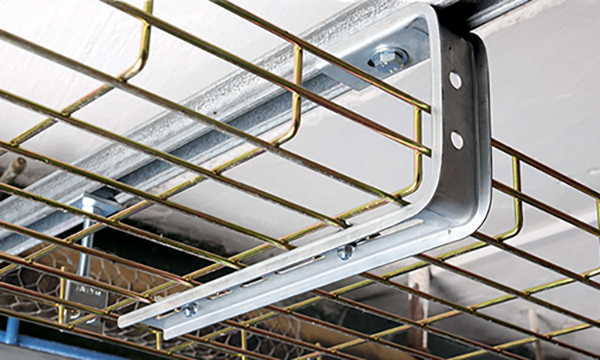 LBC Strut Fixing
Will fit over 41mm wide channel (strut) using a standard bolt and channel nut(zebedee).
Can also be fitted directly to a ceiling using any appropriate fixing method.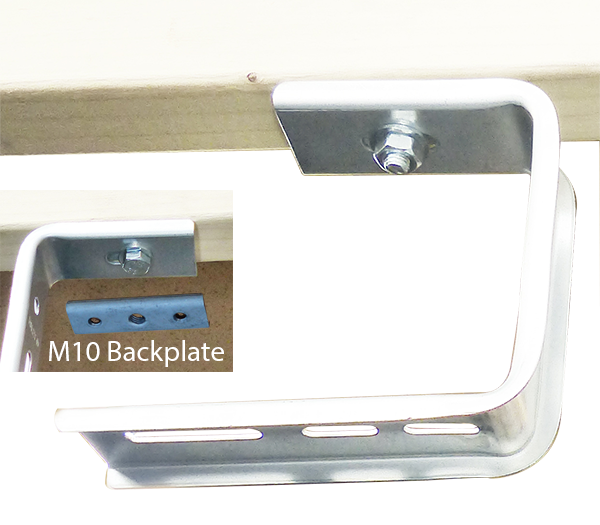 Fixing to Timber Joists
Fixing to wooden joists is made a lot easier with our HBP backplate range.
The problem with wooden joists is the need to use woodscrews. The restricted height between the two parrallel faces makes it awkward to use a screwdriver.
With the HBP range the plate is first, fixed to the wooden joist using your preferred woodscrew. The bracket is then fixed using the nut or bolt that is supplied with each backplate. You can also buy a plain backplate and use your own bolt.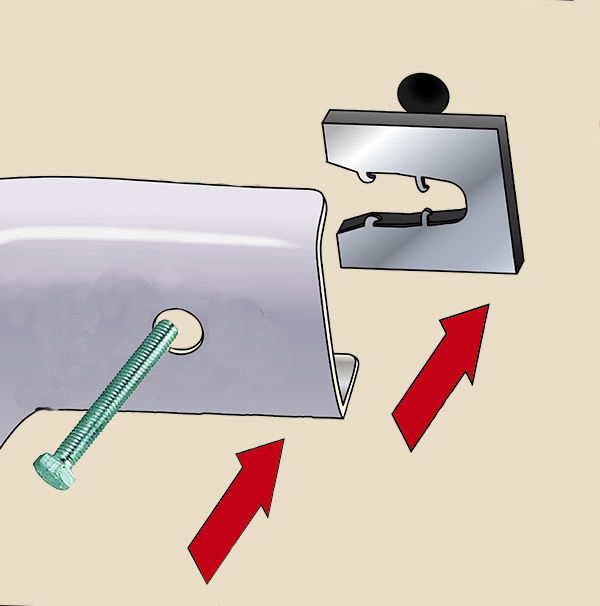 Fixing to Ceilings
When fixing to ceiling a packing piece.
With the LBBPC10 will help prevent any distortion when excess tightening force is applied.
Any suitable fixing method of the installers choice can be used
Image is for illustration purposes only, and is not to scale.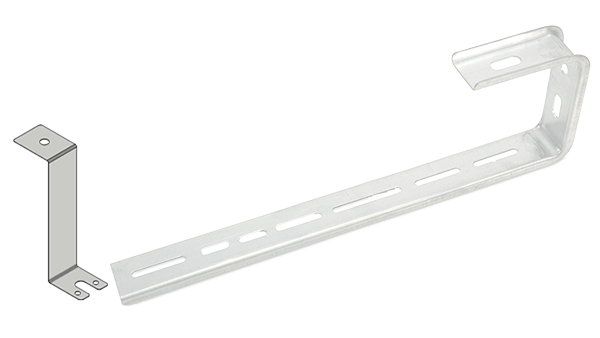 LBC End Support
LBCEL02Z end support. The top flange is clamped under top studding nut and bottom flange is secured under the tray bolt nut.The LBCEL02Z adds extra support for the longer lengths of LBC brackets, if needed. When using the 450mm bracket an extra support should be used at the free end of the bracket.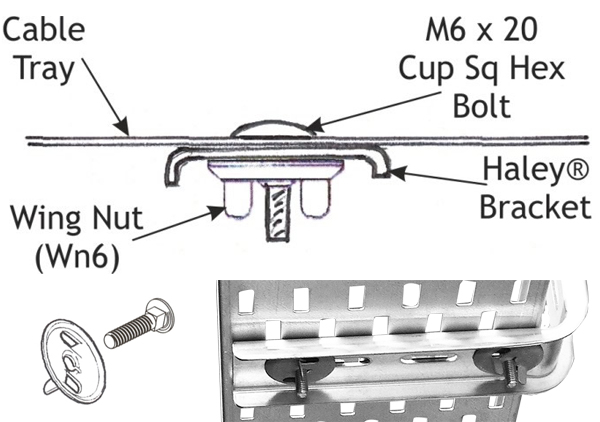 Tray Fixing Kit
When working overhead the FK001 removes the need to use a screwdriver to hold the bolt securely while tightening up the nut. N.B. no tools needed to secure the tray.
Features of LBC Brackets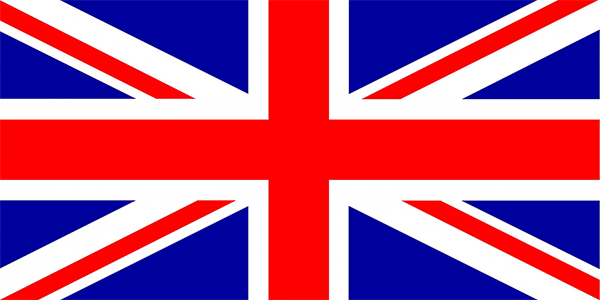 Made in Britain.
Brackets made for the electrician.
Key features:
Designed for side loading.
Single rod suspension.
Will fit over strut.
Boxed in 10's for all round convenience.
Manufactured in the United Kingdom.
Contact address
Haley Products Ltd
Navigation Road
Burslem
Stoke on Trent
Staffordshire
ST6 3RU
United Kingdom