Haley Brackets
Cable Tray Support Manufacturers + Designers
As a UK manufacturer, we specialize in supplying products to support cable tray + basket installations. As an company, we focus on making products the electrician would want to use. In gereral, easy to use, comprehensive range, convenient packaging (mostly in multiples of 10 using recyclable materials), quick deliveries with low order values.
We manufacture for stock, supply through distributors and electrical wholesalers, using next day delivery.
Our contact details are at the bottom of this page.
HFX Stand-off Brackets
Each box contains enough M6x16 tray bolts for the amount of pre-inserted spring clips.
Size
(Up To)
Material
Thickness
No. of
Slots
No. of
Clips
Inner
Quantity
Outer
Quantity
Product
Code
2"(50mm)
1.0mm
1
1
10
300
CTB0
3"(75mm)
1.0mm
1
1
10
300
CTB1
4"(100mm)
1.0mm
1
2
10
240
CTB1A
6"(150mm)
1.0mm
1
2
10
200
CTB2
9"(225mm)
1.2mm
2
4
10
120
CTB3
12"(300mm)
1.2mm
2
4
10
120
CTB4
18"(450mm)
1.6mm
3
4
10
50
CTB5
N.B. All brackets are 25mm stand off.
Tray Bolts

| Size | Description | Drive | Qty. | Code |
| --- | --- | --- | --- | --- |
| M6 x 16 | Mushroom headed, case hardened Tray Bolts | No2 pozi | 100 | TBM616 |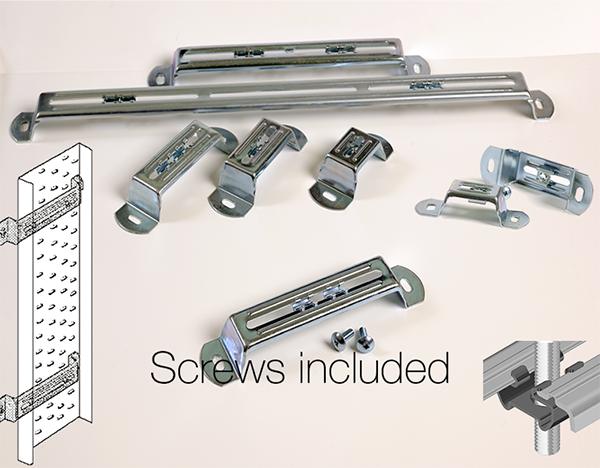 Bracket sizes
We manufacture seven sizes to fit the following sizes of tray.

2"(50mm), 3"(75mm), 4"(100mm), 6"(150mm), 9"(225mm), 12"(300mm) and 18"(450mm).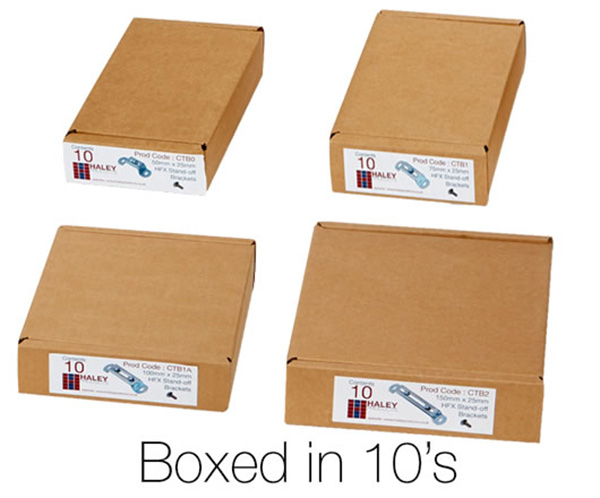 Cable Tray packaging
Haley Stand-off brackets are packed in multiples of 10 complete with tray bolts to fit the amout of spring clips in each bracket. This allows them to be stored, transported, sold and used easily.
All packaging material is either recyclable or biodegradable. The inner boxes and outer cartons are made from cardboard, the tape and plastic bag, containing the tray bolts, are both biodegradable.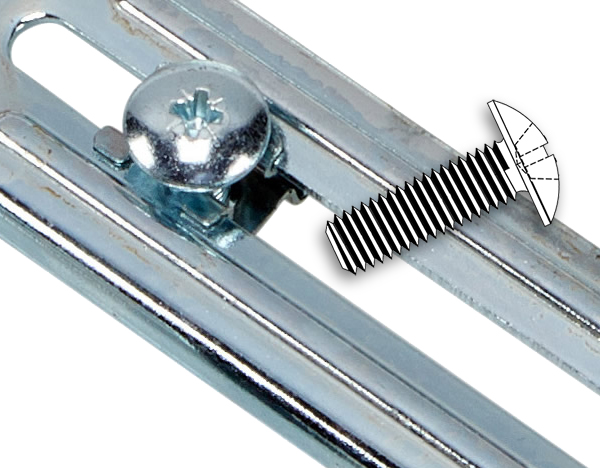 Tray Bolts and Spring Clips
Spring Clips are pre-inserted into the brackets at the packing stage. They are manufactured from high carbon steel and are heat treated to achieve the right springiness.
The Tray Bolts are case hardened and are zinc plated using CR3. It has a 14mm ⌀ mushroom head and a No.2 pozi drive recess.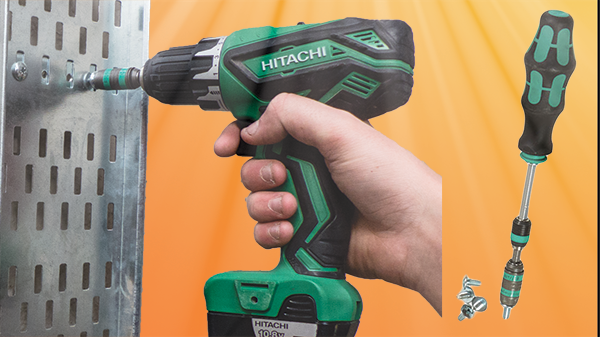 Tray Bolt Installation
For best results use the tray bolts supplied in the box.
Use No.2 pozi screwdriver or battery drill* preferably fitted with a magnetic bit holder & No.2 pozi bit, such as the Wera Rapidaptor for quicker installation.
There is always a possibility of stripping threads when a battery drill driver is used. To avoid this the torque setting must be adjusted to suitable a setting.
Features of Stand-off Brackets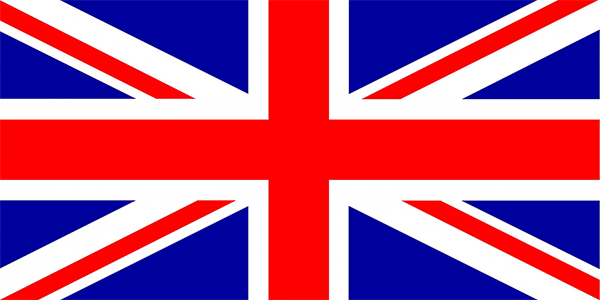 Made in Britain.
Brackets made for the electrician.
Key features:
Gives a 25mm stand-off from wall.
Pre-installed spring Clips that stay in position when fixed vertically.
Flange fixing slots are 5mm wide. Ideal for using No.8(4.2mm) or No.10(4.8mm) woodscrews.
Boxed in 10's for all round convenience.
Manufactured in the United Kingdom.
Contact address
Haley Products Ltd
Navigation Road
Burslem
Stoke on Trent
Staffordshire
ST6 3RU
United Kingdom