Haley Brackets
Cable Tray Support Manufacturers + Designers
As a UK manufacturer, we specialise in supplying products to support cable tray + basket installations. As a company, we focus on making products the electrician would want to use. In general, easy to use, comprehensive range, convenient packaging (mostly in multiples of 10 using recyclable materials), quick deliveries with low order values.
We manufacture for stock, supply through distributors and electrical wholesalers, using next day delivery.
Our contact details are at the bottom of this page.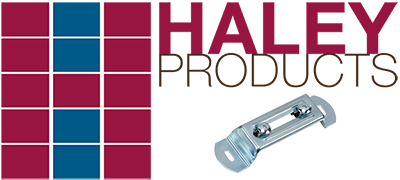 Cable Basket Central Suspension Brackets
Size
(in mm)
Material
Thickness
Finish

Inner
Qty.
Outer
Qty.
Product
Code
! 100 & 150
1.2mm
Pre-Galv.
50
250
CSB1500
* 150
1.2mm
Pre-Galv.
60
300
CSB149A
! 200mm
1.2mm
Pre-Galv.
50
250
CSB2000
! 300
1.2mm
Pre-Galv.
50
250
CSB3000
! work with basket that have even number of wire.
* work with 150mm basket that has a centre wire.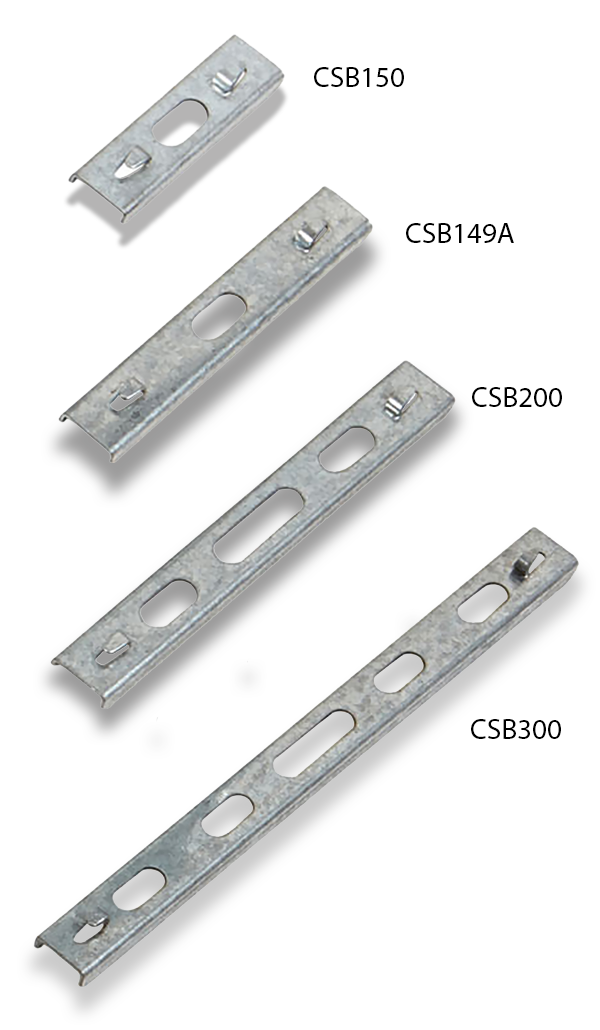 Bracket Sizes and Description
CSB150 Works with 100 & 150mm basket with even number of base wires. CSB149A Works with 150mm basket with centre base wires. CSB2000 Works with 200mm basket with even number of base wires CS3000 Works with 300mm basket with even number of base wires.

Cable Basket Central Suspension Brackets are quick, easy to use, allow side loading of basket. The bracket simply twists into basket wires making a simpler installation. The bracket will stay in place giving a hands free operation. The under side of the bracket is wide enough to accept an M10 plain channel nut or a standard hexagon nut. When using a plain channel nut the bracket acts like the jaws of a spanner.The CSB bracket will make suspended installation of cable basket simpler. Central support means the cable can be side loaded unto the basket.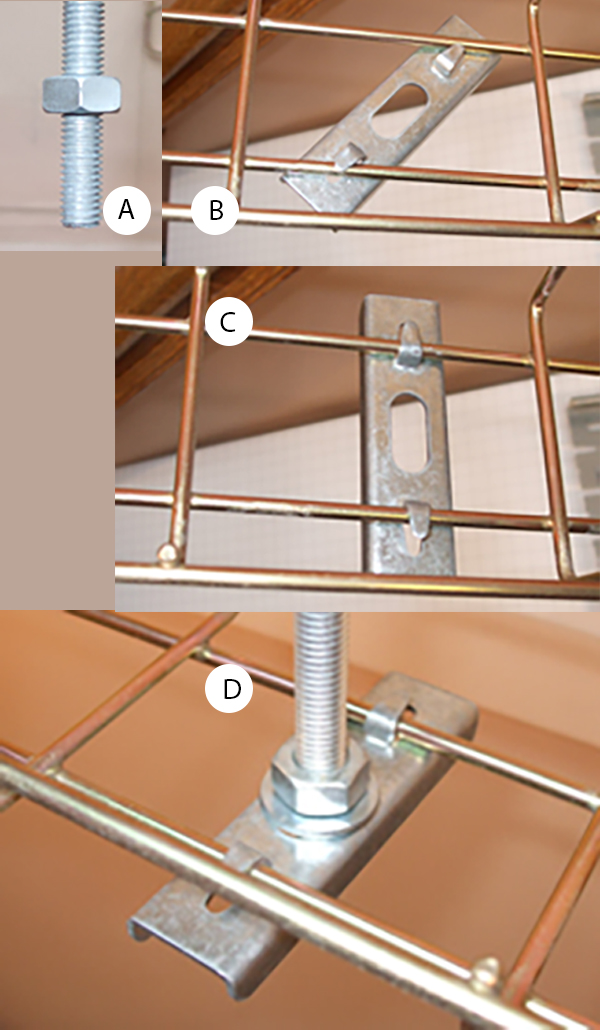 CSB Installation
A : Run nut along studding to about 30mm.
B : Place bracket between the two inner longitudinal wires.
C : Twist bracket 90º to engage tabs with the longitudinal basket wires.
D : Place a washer under nut and feed the bracket over the studding and adjust to an approx. required height. Feed a washer and hexagon nut or plain channel nut and adjust to the required height. Lower the basket on to the lower nut and tighten the top nut with a spanner.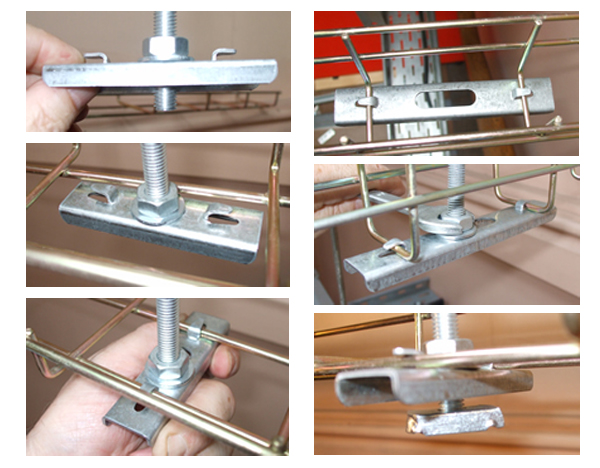 Additional features of the CSB Bracket
1 : The CSB1500 can be pre-assembled on the studding and then just twisted into place.
2 : The CSB149A can be used with narrow basket that does not have any longitudinal base wire.
3 : All of our CSB brackets are designed to allow the use of a plain channel nut. No spanned need for the bottom nut.
Strut Twist-in Clip Video, Assembled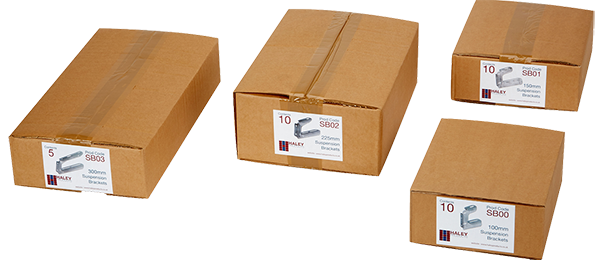 CSB Brackets packaging
All packaging material is either recyclable or biodegradable.
Features of Stand-off Brackets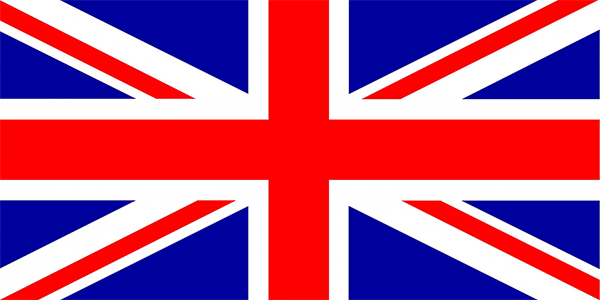 Made in Britain.
Brackets made for the electrician.
Key features:
Designed for central suspension.
Simple twist-in action.
Manufactured in the United Kingdom.
Contact address
Haley Products Ltd
Navigation Road
Burslem
Stoke on Trent
Staffordshire
ST6 3RU
United Kingdom